On this page ...
This page is specifically for family and friends who are interested in me and my new live in the USA. See also the page with maps.

October 26th, 2003, I moved to the US. Below you will find a list of things I did, encounters I had, pictures, people, etc.

It will not be super detailed, but it will give you an idea ...
By the way: More pictures I made can be found at DevianArt.
Finally, after 3 month of searching (and driving Carol crazy) I found THE car. A Jeep Grand Cherokee Limited (v8, 4.7 liter).
What a car guys! This puppy can tow about anything you can come up with and is probably capable of pushing the briks out of the road by simply punching the gas. Naturally a 4 wheel drive car with ABS etc.
Oh right, this car is definitly FAST ,... it won't do 200 km/h but it's defintly very fast at 100 km/h!
Naturally this car is loaded,...
electric windows (frons and back),
electric moon/sun roof,
central doorlocks,
ALL settings are electric for both fron seats:
- height,
- position,
- lumbar,
- back tilt,
- seat tilt
naturally with build in computer which can work both metric (European) and US, including temperature, compas, etc,
3 switches for 3 different garagedoor openers (I'm using 2 right now),
2 memory settings for EVERYTHING:
Seats, radio, airco, computer, etc - Activated by one of the 2 remotes or by pushing 1 of the 2 buttons in the door.
Double airco controls (one left and one right - digital),
10-CD changer, all controlled from the steeringwheel,
Privacy glas (that's why the windows in the back are so dark),
Cruise control,
Leather seats,
heated seats,
Backdoor can be opened in 2 parts,
Easy-exit, when leaving the car, the seats moves back so you can get out the car more easy,
Alarm,
etc, etc.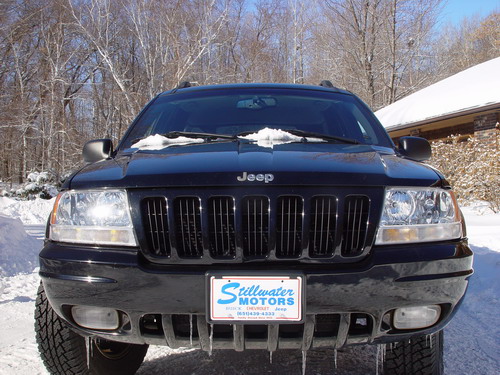 Nose, including icicles ...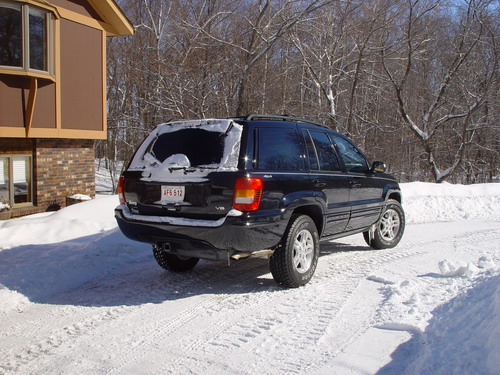 Ass,... and a good look at the dark windows ...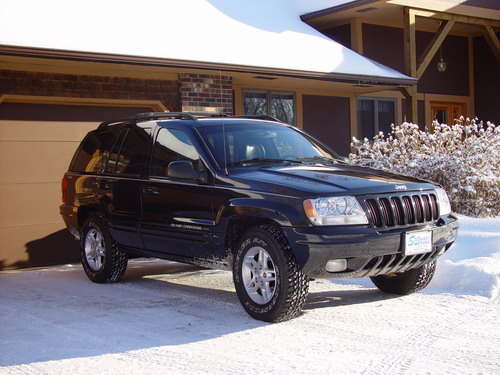 Height barely seems to fit the garage ...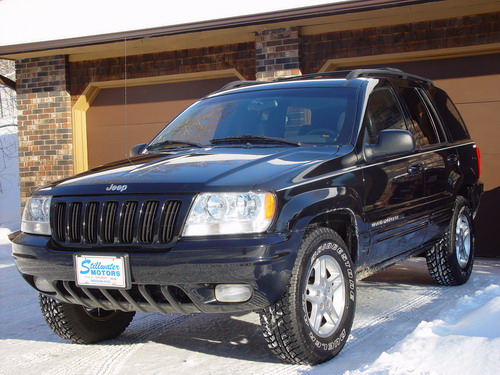 Cool verhicle ...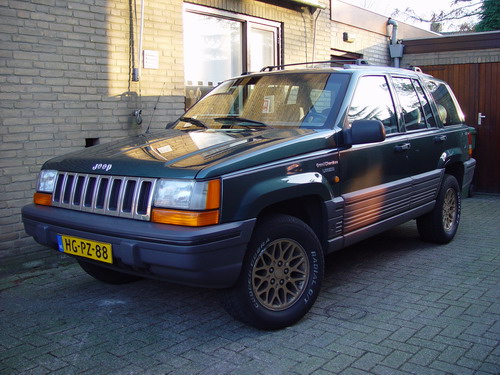 Much nicer than my old Jeep ...
Go to the Top of this page or go to "SnapShots of Puck"