On this page ...
Copy DVD to DVD±R(W) using TMPGEnc and others ...

Everybody knows that a DVD provides better video quality, specially when comparing it with VHS tapes and such. However, there is a little downside: A simple scratch can render a DVD worthless. That's why we wrote this little guide helping you to make a backup of your valuable DVD's to a DVD±R(W).

Note that you MUST own the original DVD to do this legally!
Required software : TMPGEnc, TMPGEnc DVD Author, SmartRipper, HeadAC3he, Auto GK.

Alternative methods are: DVD2One and DVDShrink. The advantage of the method we discuss here is that we can use KDVD templates in TMPGEnc.

Note: this guide assumes some basic knowledge of working with Windows applications and video/audio tools! If you do not have this knowledge - please consider the other 2 options.

Note: Please read the disclaimer!


by: Migelle
www.cybertronics.tk
Required software
We need :
Install these applications before continuing.
Step 1: DVD to Hard disk
Insert the DVD into the DVD-ROM and start Smartripper (See also Rip DVD to hard disk for more about SmartRipper).
Click the tab Stream Processing.
In our example we only need to select;
[ExE0] Video PAL / 16:9 / 720 x 576,
[ExE80] Audio English AC3(6Hc) 48 kHz en
[E0x22] Subtitle Nederlands
Note: this refers to a Dutch DVD. Naturally, if you want a different language, or TV system then this is possible too.
Select a folder where to store the files and click "Start"
A separate folder for this is recommended!

SmartRipper - Activate "Stream Processing"
Step 2: VOB to AVI
Open Auto GK.
At "input directory" select the folder where you dumped the .vob files (SmartRipper).
The "output file" can be the same folder if you like to.
For the "audio track" we select "English AC3 6Ch" and for subtitle "no subtitles".
Finally set "selected output size" to 2 Gb.
Click "add job" and finally click "Start".
The movie will now be converted to an .avi. This does take a while (my AMD xp3000+ was running for almost 2 hours to get this done). However; the quality is definitely worth it!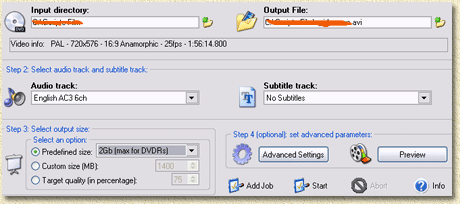 Auto GK - Convert VOB to AVI
Step 3: Ac3 audio to WAV audio
Now we will convert the AC3 file to a WAV.
We do need to rip the AC3 again with Smartripper to get it as a separate file.
This works the same as with ripping the movie on itself; however we now select [ExE80] Audio English AC3(6Hc) 48 kHz, and disable "enable stream processing". On the right side click "demux to extra file" and click "Start".
Now start HeadAC3he.
As a "source file" we select the AC3 file, the output field will be set automatically.
Select "Destination format" as "WAV".
Click "Start".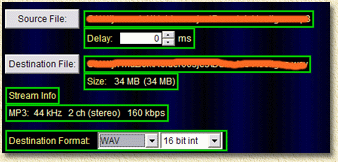 HeadAC3he - Convert AC3 to WAV
Step 4: AVI & WAV to M2V & WAV
Open TMPGEnc and select "options" - " environmental settings" and set direct show to the highest priority.
Now select "File" - "project wizard".
In the upcoming screen select "DVD -> PAL (16:9)" (still assuming we're doing a PAL movie) and click "Next".
Note: Select the template you want to use, so NTSC, KDVD, etc are valid too - as long as it's a DVD template.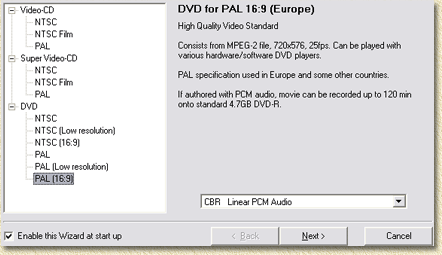 TMPGEnc - Select your favorite template
Now it's time to select the right audio and video files.
For the "video file" select the .avi file we made with Auto GK, the "audio file" should be the .wav we created with HeadAC3he.
Now click "next" until TMPGEnc starts.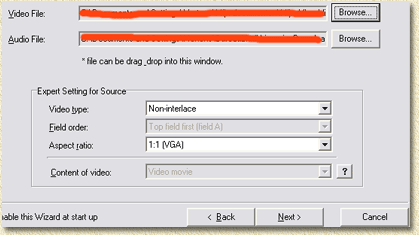 TMPGEnc - Select audio and video files
Once TMPGEnc is done, it's time to open TMPGEnc DVD author.
Step 5: Creating DVD files and burn 'm
Click the tab "source setup" and click "Add file". Now select the .m2v that TMPGEnc made. The audio file will be selected automatically. Click OK to continue.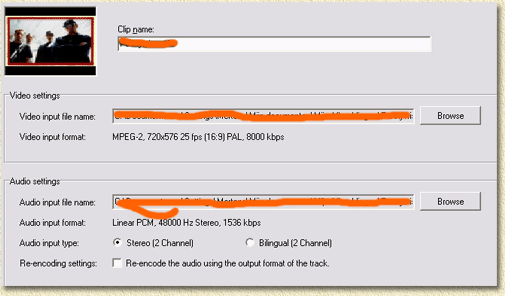 TMPGEnc DVD Author - Select files
Now click the "output" tab.
The only thing you need to do is to click the "begin output" button and ... wait.
This takes about 25 minutes.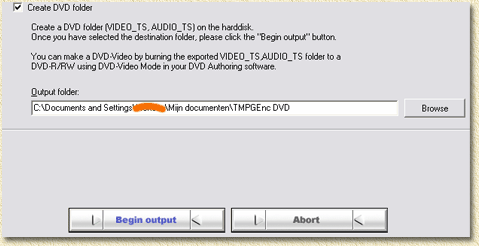 TMPGEnc DVD Author - ready to make a DVD?
Once this is finished a popup windows of the DVD writing tool will open.
Insert an empty DVD in your DVD burner and click "write DVD".
Now it's all a matter of waiting till the burner finishes it's job ...