On this page ...
Ripping a DVD to harddisk ...

Ripping DVD's is getting harder ... With newer DVD's you might encounter scrambled images even after ripping them using DeCSS or DODSpeedripper.

If you recognize the images below, then you're in for a nice surprise, we can fix it using newer ripping software. The movie-companies introduced an enhanced CSS which can be decoded anyway (although it takes more time).

Below you will find a solution that DOES work ...

Note: The proces described here copy's the DVD in it's native format - so in MPEG2 VOB files. This usually takes up a lot of harddisk space (app. 5 Gb for one movie!).

Note: Don't forget to read the disclaimer!

Note: We have posted enhanced methods for DVD ripping at Tweaking4All for MacOS X, Windows, and Linux (Ubuntu). You'll find a solution to the question "which title should I rip" there as well, also offering a solution to the so called "99 titles problem". There you'll also find an article on how to optimize your video encoder settings.
So what's going wrong?
Recognize this kind of scrambled images even after ripping a DVD?
If you do: your DVD ripping software did not rip the DVD peroperly, parts are still encrypted.


distorted images using FlaskMPEG (left) and PowerDVD (right)
Thank god technology improves on both sides, encryption improves, so does ripping :)
My personal favorite is SmartRipper (download version 2.41 here). This program is much more complex than DeCSS and DODSpeedripper, but can handle multiple keys as using in enhanced CSS.
How to rip a DVD using SmartRipper?
After downloading Smartripper, unzip the file using WinZip, WinRar or ZipMagic.
Double click SmartRipper.exe to start SmartRipper.
If no DVD was found you will see this warning, which will not be a problem simple comply by clicking "OK".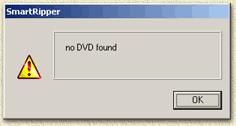 Insert a DVD in your DVDRom drive and click the open DVD icon as shown below.
If you did not get the message "no DVD found" and you already had a DVD inserted, you may skip this and go to the next step.

SmartRipper will scan the DVD and the results will be show: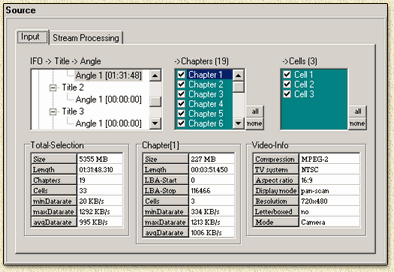 Compared to DODSpeedripper you will notice that SmartRipper is definitly a smarter piece of software, compression type, length, bitrates, etc. are shown. In this situation it even selected the proper first vob.
I usually rip the entire DVD so I can select audio channels and subtitles, so let's stay with that and continue.
Next still will be defining how good SmartRipper should work - ie. better effort = longer time to decrypt!
Click the "Settings" button/tab:

A window appears alowing us to do some detailed settings, so far I tried only one which works for me ... You can play with the settings, but for starters I would just copy these: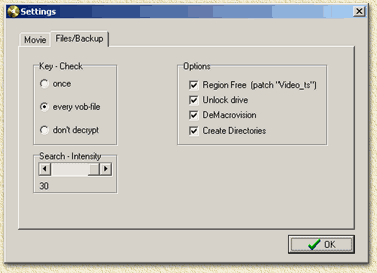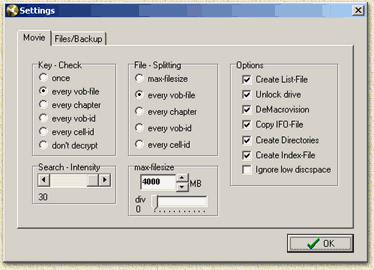 Click "OK" when you're done.
Now it's time to select the ripping method. Three options are available:
MOVIE
This will rip the movie to one movie file (not used often). The movie is decrypted when finished.
FILES
Used for example when you know exactly what files you need for video, audio and subtitles. SmartRipper helps you with that too by preselecting the movie files. These files are very good usable with for example FlaskMPEG.
SmartRipper decrypts the files here too.
BACKUP
Will copy and decrypt ALL the files from your DVD. Very usefull with for example FlaskMPEG and still allows you to select languages (audio and subtitles).
For beginners: start with the BACKUP version. Alternatively you can select the FILES version.
Basically all settings are done properly by SmartRipper - if you like you can play with it, but I'd suggest to keep them the way they are.
Next we must decide where to put the ripped files. This can be done in the lower part of the screen:

Now we can start ripping ... click the "Start" button:

The ripping process now starts. A window will inform you about the current status of the ripping: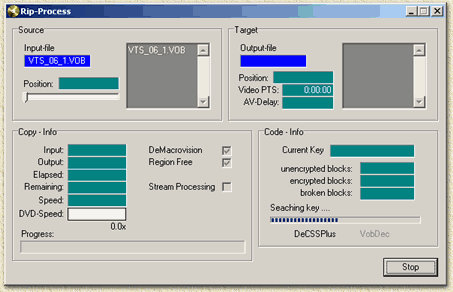 Now it's all a matter of great patience...