Nero Vision Express 2 by Ahead comes with the latest version of Nero Burning Rom (6.x) and allows you to create a DVD, VCD or SVCD using AVI's and MPEG files.

In this short guide I'll show you how to create your own DVD form AVI's (but it will work as good from MPEG's or a combination of both), which you can playback on your PC and on most standalone DVD-players.

Before you start you will need to have a proper MPEG-2 plugin for Nero (see their website for details on how to purchase this plugin). The new MPEG2 plugin renders a very nice quality.

Note: Not all standalone DVD-player support DVD±R(W) media, checkout our DVD-compatibility page for details on your DVD player!

Note: If you have FFDShow installed on your PC, subtitles will be included in the conversion.

Tip: It is also possible to add images (like digital photo's) to your DVD!

Note: Read the disclaimer first!
Overview
Before we can do anything, we will need to get our hands on Nero Vision Express 2 (NVE2).
NVE2 comes with Nero Burning Rom (Ultra Edition) as of version 6. Older editions of version 6 might not have it, so please update your version if you don't have it with your version.
If you're going to make VideoCD's (VCD) only, then you're ready now as for the Nero part.
If you want to create Super VideoCD's (SVCD) or DVD's, then you will need to get the Nero MPEG2 plugin as well.
Depending on the source files, you will need certain audio and video codec to be installed on your PC as well.
I highly recommend installing FFDShow (see the SourceForge website, or download it from our download page)!
A rule of thumb here: if you can playback the source files (using Windows Media Player), then you're fine.
If that doesn't work, use G-Spot to identify the missing codecs.
Starting Nero Vision Express 2
That's easy; look for the icon in the Windows START menu and click it:

The following window will appear: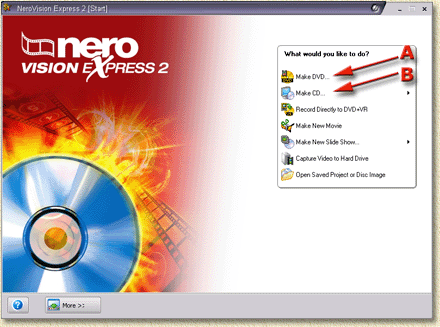 Nero Vision Express 2 - Start Screen
The two arrows (A and B) indicate which option to click to start making a DVD (A) or a VCD/SVCD (B).
We'll focus on making a DVD, but steps with a VCD or SVCD are similar.
Click the text "Make DVD ...", and you'll see 2 options appear: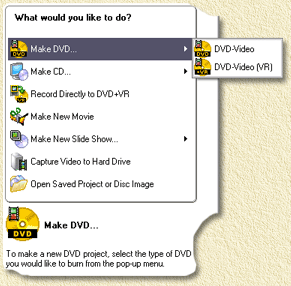 Nero Vision Express 2 - DVD options
Click the option "DVD-Video".
Note: The other option, "DVD Video (VR)", is an option I cannot recommend. It allows you to add/remove video fragments afterwards. However: most current DVD players do not like this format very much. Also: when deleting a scene from a DVD+VR, this scene will only be hidden from the user!
Once you click the "DVD-Video" option, this window will appear: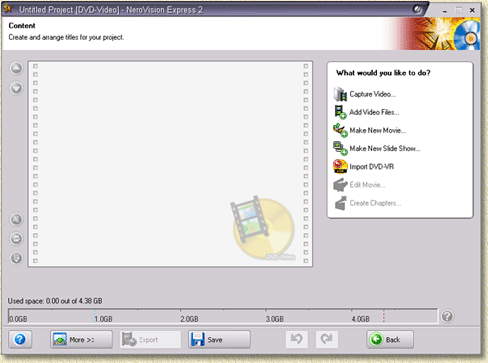 Nero Vision Express 2 - Adding files
Unfortunately, drag and drop didn't work with the version I was using. I assume that newer version will support this.
However, for the time being we're stuck with a version that doesn't.
Click "Add Video files". A file dialog will appear.
The version I used supports the following file formats:
ASF

Advanced Systems Format.
Microsoft format - usually for streaming video or high compression video.
Requires Windows Media Player (possible update to version 9 or newer).

AVI

Audio/Video Interleaved.
Common video file wrapper format. This includes DivX, XviD, etc.
This does not indicate which codecs are needed. Use G-Spot to determine possible codec issues.
If you use the extension DIVX for you movie files: rename it to AVI.

DAT

MPEG-1 file format used with VideoCD's.
Windows can deal with this format without any additional codecs.

DV

Digital Video - commonly seen with digital camcorders.
You'll possible need a DV audio/video codec.

DVR-MS

Microsoft specific DVD file format.
No clue where it's used.

MPG
MPEG
MPE

MPEG files (both MPEG1 and MPEG2, with or without audio).
Only for MPEG2 files, you will need to have DVD playback software installed, like PowerDVD.

MP4

MPEG4 format (like DivX).
Can require a specific MPEG4 codec for proper playback: install FFDShow to avoid issues here.

ND

Nero specific format.
Haven't seen where it's used yet.

VOB

DVD Video OBject file.
This is MPEG2 based so it will also require you to have DVD playback software to be installed (like PowerDVD for example).
Note: You cannot use a VOB file directly from a copy protected DVD. You will first need to rip the file to hard disk so the encryption is removed. If you plan to do this: Read the disclaimer first!

WMV

Windows Media Video.
Microsoft format - related to the ASF format.
Note: You're not limited to adding only video files.
You can also add pictures (i.e. Digital Camera / Scanned pictures). Use "Make New Slide show" for this purpose.
Select the files you want to add and click "Open". The movie will now be imported.
Repeat this step if you want to add more movies.
Now, it can happen that the files you selected will result in a too big a movie file for a DVD+R/DVD-R to hold. This message will tell you so: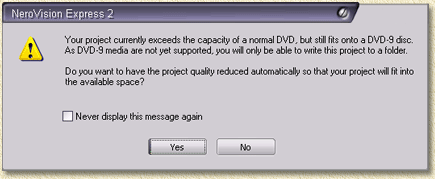 Nero Vision Express 2 - Woopsie to much movie data for a single DVD!
If you didn't add too much, you might be able to fine tune the video bitrate a bit so the files WILL fit on a single DVD.
It's a matter of trial and error, but on average I would say that about 4 hours of movie can be squished on a single DVD (let say 2 full size movies). So how do we do that then?
If you click "Yes", Nero Vision Express 2 will try to do it for you. However it might not succeed in this and might show this message:


Nero Vision Express 2 - Way to big that movie!
So what can we do to MAKE it fit?
Click "OK" so the message goes away. Then click the "More" button (lower left corner):

Now some additional buttons will appear, allowing you to fine tune the bitrate by clicking the "Video Options" button:
In the upcoming window you can set the target TV system (USA: NTSC, Europe: PAL).
Clicking the "DVD-Video" tab will bring you more useful options for fine tuning the video bitrate.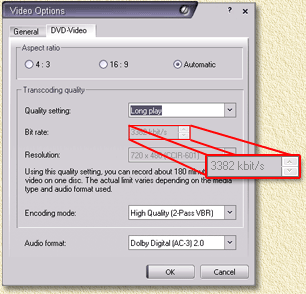 Nero Vision Express 2 - Detailed options for video
Before going any further: read the value in the "Bit rate:" field (popping out in the picture above, where is says 3382 kbit/s).
NVE2 knows 6 predefined Quality settings: Automatic, High Quality, Standard Play, Long Play, Extended Play, Super Long Play and Custom. However your movies could not be squished in there using one of the default settings.
Set the "Quality settings:" to "Custom".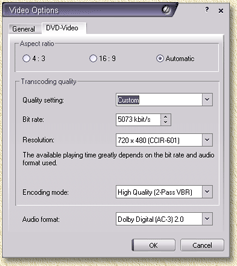 Nero Vision Express 2 - Custom settings
You might have noticed that the bitrate went way up (5073 in this example - compared to the 3382 we saw before).
Now we start our trial and error game:
Start Optimizing: Enter a low value for bitrate, for example 2500. Click "OK".
NVE2 will now ask if you want to use this as your default setting. Click "YES".
NVE2 will now show you the space needed for burning the movie file(s). For example:


Nero Vision Express 2 - Space used
The thin dotted vertical line (just past the 4.0GB point) indicates the maximum you can burn. In this example we see that we're not yet optimally using the available space.
Up/Down Optimizing:
In case NVE2 shows you right away this screen: slightly increase the value.
In case NVE2 complains that it will not fit: slightly decrease the value.
It's a good strategy to start out with a 500 kbit/s increase/decrease.
Once a step fails, decrease the value to about in the middle between the highest successful value and the lowest failure value.
So if you went from 2000 (success) to 2500 (success) to 3000 (failed).
So at 3000 it fails. The highest success value is 2500, the lowest failure value is 3000, so now try 2750.
If that fails again, try a value in the middle between 2500 and 2750, say 2650.
Keep repeating this until you get to a point where it does not make any more sense to increase/decrease the value.
It's pretty safe to say, that a 25 kbit/s increase or decrease will not have any influence on the quality of the movie.
If it succeeds, try a little higher - again, somewhere in the middle between the highest success value and the lowest failed value.
Say 2850. Until it fails again. As of that point, go down again.
Note: NVE2 does not repeat the warning that a file doesn't fit once it's in the mode of "the movie is too big". The bar indicating the "used space" will help you out there. The green part of the bar is OK in the image below. However that little piece of blue is wrong. It's too big:


Nero Vision Express 2 - Still too big!
Note: If it fails at a value of 2500 kbit/s (or even below that value), I would recommend removing some of the movie file(s).
Below 2500 is just going to give you very poor quality. 2500 kbit/s is actually already pretty low.
Although it's optional, I highly recommend creating chapters! It will make watching the movie a lot more comfortable when you have to skip forward/backward during playback.
You can create chapters yourself (takes some effort I guess) or have it done automatically by NVE2.
I always use the automatic option - just lazy I guess.
Right click the movie file (in NVE2) and select "Create Chapters ..." from the popup menu. A new Window opens;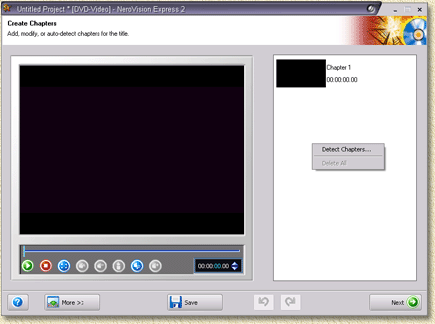 Nero Vision Express 2 - Create Chapters for your DVD
For automatic detection, right click the white area on the right and a popup menu will appear (as shown above). Select "Detect Chapters ...".
Or: click the "Auto Detect" button:

NVE2 will now start auto detecting "chapters". It will take a couple a minutes (depending on the CPU power your PC of course).
NVE2 might run away with a lot of CPU power, so don't be surprised when other applications start responding really slow.
Once it done, click "Generate" which will close this window. Now click "Next", and if needed repeat this step for other movie files.
Note: It can happen that the chapters/menu's you just made will cause the DVD content to become to big again. In that case you will need to repeat the Fine tuning of bitrates. This will go a bit faster though: lower the bitrate about 20 kbit/s - usually that is sufficient to make it fit - unless you use animated menu's, which requires much more space.

OK, so we have video, we have chapters, but we do not yet have a menu.
Click the "Next" button. The menu-building window appears: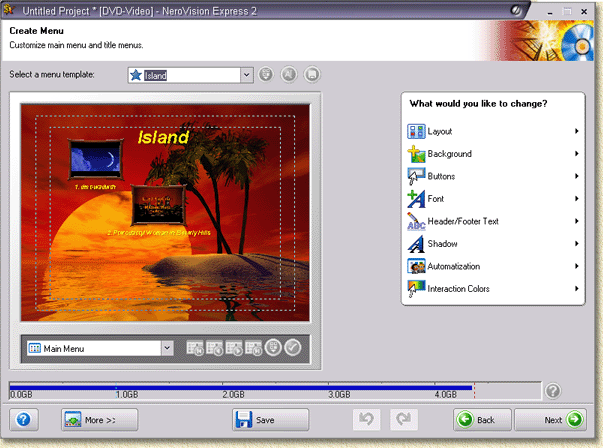 Nero Vision Express 2 - Menu builder
In this screen you can change quite some settings like background image, position and number of items, font, etc.
Notice the drop down listbox in the lower left corner. It states "Main Menu" now. Here you can select the SUBmenu's for each movie file and see the chapters displayed as buttons. Here again you can set and change what ever you want.
Now go ahead an edit the menu and/or submenu's. Once you're done editing, click "Next".
This will bring up a preview of how the navigation of your DVD will work.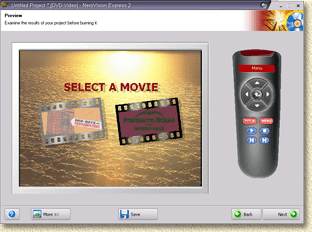 Nero Vision Express 2 - Test your DVD compilation

If you're happy with the result, click "Next" again to get to the burn-window.
Tip: When double clicking a menu item, NVE2 will bring you to a screen where you can set TITLE and IMAGE for this scene or movie.
Selecting a title can be a bit tricky, so here is a tip. Click the slider bar and use the left and right arrow keys of your keyboard to move forward frame by frame.
So we now are ready to go and burn the DVD (or CD if you choose VCD or SVCD).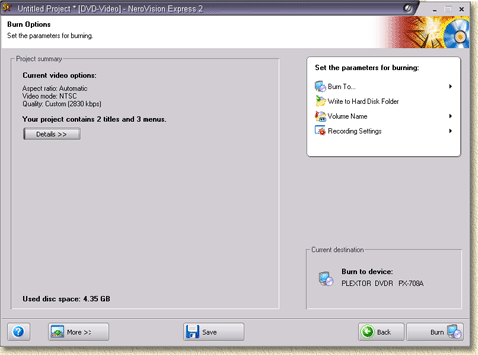 Nero Vision Express 2 - Burn to DVD or CD window
On this page we can do some settings for burning a DVD/CD.
First select the "Burn To ..." option to set the proper destination. A destination can be a hard disk image (Image Recorder) or you DVD/CD burner. The box in the lower right corner called "Current destination" shows you what the current setting is.
Optional you can write the DVD files to a hard disk folder (click "Write to Hard Disk Folder").
To set a volume name, click "Volume Name".
To set recording speed, click "Recording Settings".
Once everything is set, click the "Burn" button to start the actual burning process. This involves rendering of the main menu en the sub menu's, converting movies/pictures to MPEG2 for DVD, creating the required VOB/IFO/SUB files, and finally the writing to your DVD.
This process takes a while. So if you want to start this a night, you can check the option "Shutdown Computer when Finished".
That's all ...