On this page ...
How to connect your PalmPilot to a Garmin eTrex?

Here I show you how to connect your PalmPilot to a Garmin eTrex GPS receiver. I did this with the PalmPilot IIIc and the older Professional. I also found some additional info on the Internet on the newer models like the Sony CLIE and the M5XX series by Palm.

Note: Read the disclaimer!

pFranc (Larry) designed his own eTrex connectors for both the rectangle shaped Garmin connector and the round Garmin connectors.

Tip: READ THE ENTIRE ARTICLE FIRST!
Get your PalmPilot connected to your Garmin eTrex...
The cool thing about GPS is to know where you are ... but what use does it make without a map showing you where that might be? The great thing about an PalmPilot that it, just like a Compaq iPAQ, has a lot of memory, most of them have a colorscreen and are relatively cheap compared to PocketPC/Psion variants. So combing this, for example with the TomTom Routeplanner Europe or USA, would make an excellent navigation tool ... wouldn't it? Ehm,... but how should we connect them?
Well, let me show you how I connected my PalmPilot IIIc to my Garmin eTrex Venture. Most PalmPilot models can be bought pretty cheap at for example eBay.com or Marktplaats.nl.
The GPS receiver, a Garmin eTrex, can be bought for app. $100 (basic model) to $170 (the Venture model which has just that little bit of extra, and comes with a serial cable too! See also: GPSNow)
Getting Connected
The connection strongly depends on the PalmPilot type you have. Please let me know if you know about how to connect other PlamOS based devices.
PalmPilot models:
IIIc, III, IIIe, IIIxe, V, Vx, VII, VIIx, Professional, 5000 series
Note: in the page logo you see the IIIc and the old Professional...
These PalmOS based PDA's have this type of connector (shown the serial travel sync cable).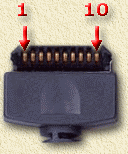 | | |
| --- | --- |
| 1 | DTR |
| 2 | + 3.3V |
| 3 | Receive Data (RXD) |
| 4 | RTS (Request To Send) |
| 5 | Transmit Data (TXD) |
| 6 | CTS (Clear To Send) |
| 7 | GP-ID_1 (direct to 3.3v = HotSync) |
| 8 | GP-ID_2 (via 10KOhm to 3.3v = Modem) |
| 9 | Not used |
| 10 | Ground |
Now we can either create a nullmodem cable which we will place between de Garmin-PC cable and the sync cable of the PalmPilot (either from a sync cable or from the sync craddle). This will work with ALL PalmPilots that have a sync connection that is RS232/Serial based.
Now get 2 male DB-9 connectors and connect the wires as such:
New Models: Ready for trouble?
HandSpring Visor
I'm not sure how the new models are connected. I still have to find out. However I do know the HandSpring Visor models are a pain, since they do not come with the proper RS232 (=serial) electronics and use USB instead.
Sony CLIE
Most Sony CLIE devices use USB interface too. The fun part here (as with the iPAQ PocketPC for that matter) is that the CLIE devices appear to have a fully functional serialport.
Note the pincount of the Sony connector: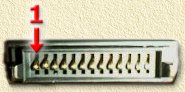 The Sony CLIE sync-cable connector
Sony connector to 9-DB wiring:
NOTE: It appears that the Sony CLIE requires you to connect it's own pin 12 with a 47K ohm resistor to it's own pin 13 (GND). The resistor is what tells the CLIE to use the serial port rather than the default USB port.
PalmPilot M5XX series
The Palm M5XX units also have a USB port, and, like the Sony, they have a fully functional serial port as well so, connecting them to a gps should not be a problem. The serial hotsync cable can be used with a null modem adapter, for example, and any of the solutions described in the serial cable section. If you wish to create your own cable then follow the instructions below.
| | | |
| --- | --- | --- |
| RxD (data in) | 10 | 3 |
| TxD (data out) | 11 | 2 |
| GND | 1 | 5 |
Note: The M5XX models have the same ID approach as with the Sony CLIE, for identification you might need to connect a 7.5 KOhm resistor between the M5XX connector's pins 7 and 8.