On this page...
Get your iPAQ connected to your Garmin eTrex...

The cool thing about GPS is to know where you are ... but what use does it make without a map showing you where that might be? The great thing about an iPAQ is that it has a lot of memory, most of them have a colorscreen and best of all they have sound on board. So combing this, for example with the TomTom Navigator or TeleType GPS software, would make an excellent navigation tool ... wouldn't it? Ehm,... but how should we connect them?

Well, let me show you how I connected my Compaq/HP iPAQ 3630 to my Garmin eTrex Venture. The iPAQ 3630 (Any 3600 and 3800 series will do) can be bought pretty cheap at for example eBay.com or Marktplaats.nl.

The GPS receiver, a Garmin eTrex, can be bought for app. $100 (basic model) to $170 (the Venture model which has just that little bit of extra, and comes with a serial cable too! See also: GPSNow).

pFranc (Larry) designed his own eTrex connectors for both the rectangle shaped Garmin connector and the round Garmin connectors.

Note: read the disclaimer!

Tip: READ THE ENTIRE ARTICLE FIRST!
Overview
Before we start we need to decide what type of cable we wish to make:
Getting Connected with a nullmodem cable
This trick assumes a Compaq/HP iPAQ 3600 (or 3800) series PDA and a Garmin eTrex GPS receiver (any model will do).
What do we need?
Garmin eTrex serial cable.
The connector would be sufficient too, but since these are rare and pretty expensive, I opt for the re-use of my serial cable. My Garmin eTrex Venture came with a suitable cable.


A iPAQ connector.
I got mine from a $5 USB to iPAQ cable. I used the USB cable for the serial craddle to USB trick. The connector of the iPAQ was not used for that ... keep in mind though that if you use a cable that this connector should be detachable - ie. not molded to the cable!
A Serial to iPAQ cable would make things even easier. In that case rather go to a shop and find yourself an nulmodem adapter (male DB9 on both sides).


A male DB9 connector.


Some cable (3 wires inside)
Basic layout of the connection



Standard Garmin Serial cable




(Our new cable)



Cables, Cables, Cables ...
So how are the wires connected then?
| | | | | |
| --- | --- | --- | --- | --- |
| 2 | 8 | 7 | RX Data | Blue |
| 3 | 7 | 8 | TX Data | Red |
| 5 | 4 | 10 | GND | Black |
Connect the 3 wires with the connectors as indicated in the table above.
(Thanks to Jan Willem van der Hoek for the 38xx information)
After doing the soldering, you might want to try one or two of the freeware applications for your PocketPC (Stealth GPS for example). Make sure protocol (Garmin vs NMEA) and baudrate (usually 4800 for NMEA) are set properly. The connection of your Compaq iPAQ is sometimes called COM1 in the PocketPC application ...
Below you will find detailed images on the pins to use.
Keep in mind that this cable is for GPS only! And this cable is a NULMODEM cable!
Other equipment might need more cables to put through!
Connectors and numbers ...
As always, connectors have numbered pins,... the only things is: WHAT numbers? Most DB9 connectors have number printed on them, but the iPAQ connector is too small for that. So I tried to make it better understandable which is which.
The iPAQ 3600 series connector
Front view, viewing the part that goes into the iPAQ:

This is what such a connector looks like on the backside, ie. inside the connector: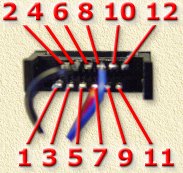 The RS232 DB9 connector
This is a well known and well document connector, most of them even have numbering on the connector itself.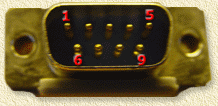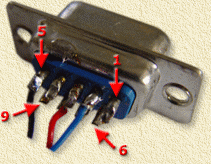 Direct connected to the Garmin eTrex
If you'd rather have a direct connected cable, you should need the data on the Garmin eTrex connector: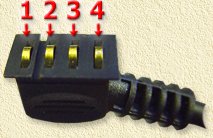 The serial connector of the iPAQ (3600 and 3800 series!) will have to be connected as such:
| | | | | | |
| --- | --- | --- | --- | --- | --- |
| pin 1 | Power (+ 3 Volt) | | not used! | not used! | not used! |
| pin 2 | RXD (Data IN) | | pin 8 | pin 7 | TXD (Data OUT) |
| pin 3 | TXD (Data OUT) | | pin 7 | pin 8 | RXD (Data IN) |
| pin 4 | GND (-) | | pin 4 | pin 10 | GND |
(Thanks to Jan Willem van der Hoek for the 38xx information)
Tip: If you're busy with an eTrex connector anyways then you might want to consider adding external power for the eTrex aswell. Use a 3V powersupply and connect it to pin 1 (+) and 4 (-) of eTrex connector.