On this page ...
How to convert DivX (AVI) movie to KVCD or KSVCD with TMPGEnc?

Tip: if you want to INCLUDE SUBTITLES, the please read this article: "AVI with subtitles to K(S)VCD".

Tip: Take a look at the K(S)VCD Intro page for more info on the K(S)VCD format.

A common situation: you have a DivX movie (*.avi or *.divx, see Ripping DVD to Divx and Downloading Movies from the Internet for details).

Your problem: you want to playback the movie on your DVD player that's standing in the living room and you don't want to use the TV-out option which some computers have (actually: it's the video card offering this option - if at all).

Solution: Since current DVD-players cannot playback DivX, we must convert the movie to a different format. We use MPEG1 for DVD players that support VideoCD, or we use MPEG2 for those that support Super VideoCD. The latter is much better in quality.

The only tools we need are the DivX video codec and the TMPGEnc. The TMPGEnc can be downloaded from the TMPGEnc website.

Note: there are two version of TMPGEnc: the "free", where MPEG2 quits working after a 30 day trial (MPEG1 remains working), and a "Pro" version. The "Pro" version however is not for free.

Tip: Although we are discussing here the conversion from DivX to MPEG, the same tool can also be used for converting DV (camcorder) and other AVI video formats. In fact: it's actually made for that purpose.

Note: AVI files with AC3 audio will not work with this trick!

Note: Converting a movie to MPEG does NOT improve the quality! So don't expect a DivX with a lousy quality to become excellent by converting it to DVD or SVCD!

Note: don't forget to read the disclaimer!
The required software
Software for movie playback
First try if you can playback the movie on your PC using the Window Media player.
If not, then we will need to install (if not already) the Video Codec. For DivX go to the DivX homepage .
This is needed for playback. MPEG Encoder uses the codec suitable for the movie, just as it does with basically any AVI file format.
In order to transcode to KVCD, KSVCD or KDVD, we will need to install the KVCD templates. See the K(S)VCD Intro page for details.
Software for transcoding
Here we are at the core of our conversion process (called "transcoding"). Download TMPGEnc from the TMPGEnc website. First use the trial version to see if it works the way you expect it before buying the "Pro" version. I know I'm convinced that this is a tool worth it's money, but make sure you do too. Install it and run the application.
Install the software first!
The real work: TransCoding
Transcoder means something like "converting from one format to another".
After downloading and installing TMPGEnc, start it. You will see a window like this (I used version 2.59.47.155 Plus):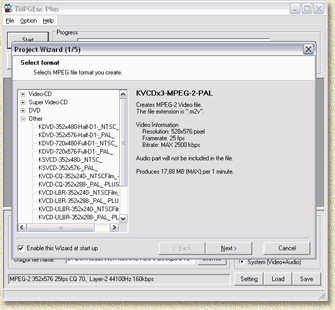 TMPGEnc starts with the Wizard - The K(S)VCD templates should be visible now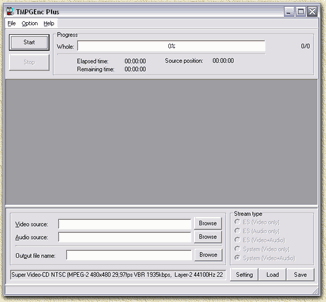 TMPGEnc starts without the wizard
As you can see, TMPEnc can start with or without wizard. After a fresh install, TMPGEnc usually starts with the wizard.
We will continue working with the wizard.
Tip: In case the wizard is not visible, choose from the "File" menu the option "Project Wizard" (or simply press the key combination CTRL+W).
Step 1: Select the proper format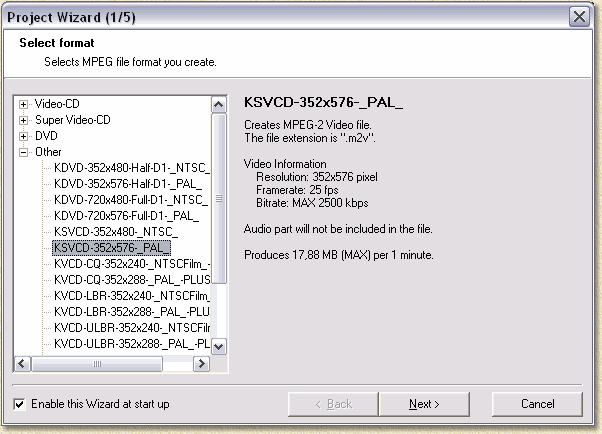 What video format do we want?
OK, in this wizard screen we can choose our target format. Make sure you do select the proper one. Try to avoid transcoding NTSC to PAL and viceversa as this usually causes problems with playback! Most DVD players support KVCD and KSVCD (See DVD Compatibility Database).
Now click the "NEXT >" button.
Step 2: Select Source file(s)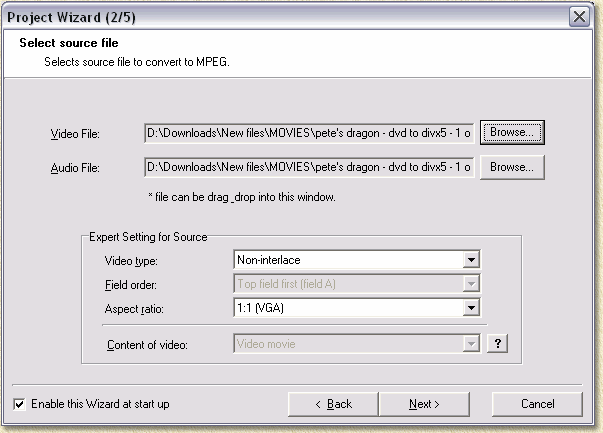 TMPGEnc: Which AVI do you want converted?
At the Video field click the "Browse..." button, and choose the AVI you want to convert. Close the dialog (after selection) by clicking "OK".
Verify at the Audio field that it shows the same filename now (usually does). In case there is no filename here, the click "Browse..." for this option and SELECT THE SAME AVI FILE as you choose for Video.
Note: Do NOT copy the other settings, like "Video type", "Field order", TMPGEnc will automatically enter data into these fields!
Click "Next >" again.
Step 3: Filter settings
Leave this page as it is and click "Next >" again.
Note: none of the checkboxes (except "Enable this Wizard at start up") are checked!
This step is a bit more complicated, so please pay attention here!
Make sure you select the proper resolution as recommended in the K(S)VCD Intro table!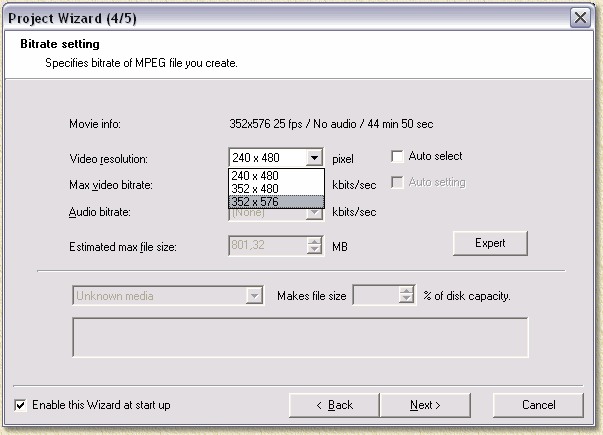 K(S)VCD Resolution: Select a recommended resolution!
Click "Next >".
Step 5: Output File
In the next window, we select the "Output file:", the filename of the transcoded movie. Either enter it manually or click "Browse...".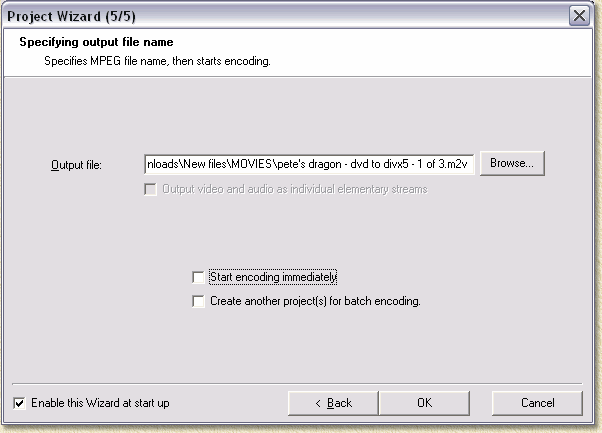 Output filename: enter name and directory
NOTE! Remove the checkmark at "Start encoding immediately".
Finally click "OK".
Step 6: Ready to go?
The next screen: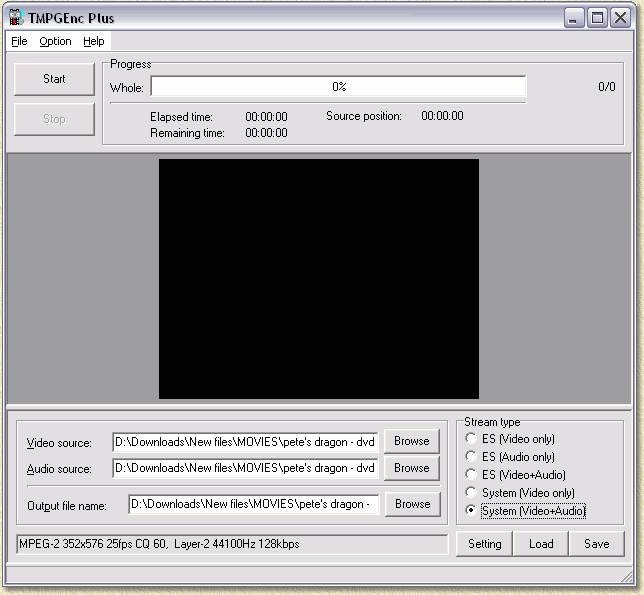 TMPGEnc: Can we start transcoding?
Make sure you check "System (Video+Audio)" !!!!!!
Please run through this checklist before we can start:
Video Source
Is the proper AVI filename entered here?


Audio Source
Do you see the same AVI filename as seen in Video Source?


Output file name
Do you see the proper filename here too?


Stream Type
Check if "System (Video+Audio)" checked (although you cannot change it with some formats - for example SVCD)


Output format
In the lower part of the window you will see a line with format, resolution, type of video bitrate (VBR/CBR), videobitrate and audio format with bitrate. You might want to verify them.
Final Step: Start transcoding
This is simple: Click the "Start" button and wait hours ... (Usually 1 hour of video takes between 1 and 2 hours transcoding - depending on your PC!).
Burning a K(S)VCD
After the transcoding process you can use Nero (or similar (S)VCD capable application) to burn the CD.
Note: Nero Express will not work properly as it will try to transcode the MPEG video again!!!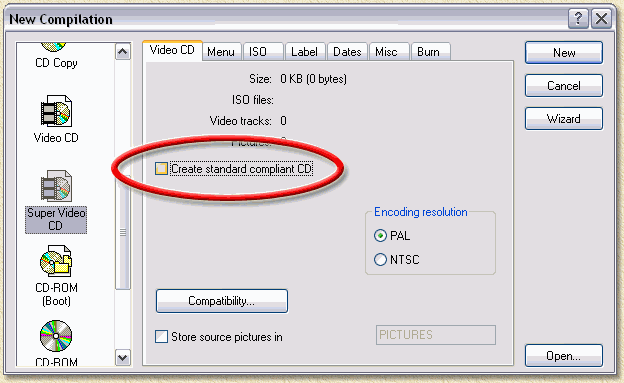 Make sure to UNCHECK "Create standard Compliant CD"!!!!!