On this page ...
On this page, you will find the network settings of your PC for use with a router solution (either hardware or software solution). This information is published on a seperate page, as it's being used for several other pages as well. The settings work for TCP/IP networks, either UTP or BNC (coax) based, using a router. This router can be a separate device, a (A)DSL/Cable modem or a server with for example WinRoute, all of them with DHCP activated.

This page focusses on Windows 2000 and Windows XP.

Related pages for different Operating Systems are: Windows 95, 98 en ME, Macintosh OS 7 of 8 and Macintosh OSX.
Configuring WINDOWS 2000/XP
Select "START" - "Settings" - "Control Panel" and click "Network and Dial-up Connections".
Select, with the right mouse button, the LAN network-connection that is connected to the router (you can actually rename this connection by pressing F2) and choose "Properties". This window now appears:
Choose "Internet Protocol (TCP/IP)" and click "Properties", copy these settings: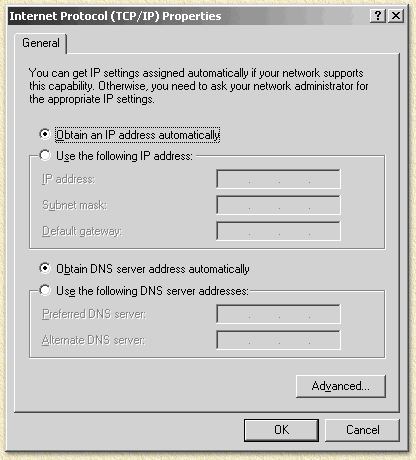 Click "OK" and click "OK" once more. The client is now configured. Windows 2000/XP does not require a reboot, it takes a few seconds before Windows gets a new IP-address (Use IPCONFIG in a DOS-box to verify).
TIP: Sometimes the connection appears to have a problem finding the router. In the previous window, click "Advanced..." and add a DEFAULT GATEWAY. This should be the IP-address of your router!
Microsoft Windows 2000 [Version 5.00.2195]
(C) Copyright 1985-2000 Microsoft Corp.

C:\>ipconfig

Windows 2000 IP Configuration

Ethernet adapter Home network NIC:

Connection-specific DNS Suffix . :
IP Address. . . . . . . . . . . . : 192.168.1.10
Subnet Mask . . . . . . . . . . . : 255.255.255.0
Default Gateway . . . . . . . . . : 192.168.1.1

C:\>
Users of Windows XP can do this also by requesting the "Status" of a connection.
There a 2 ways of doing this:
If you see an icon for the connection, next to the Windows clock.
Click the icon with the left mouse button. In the apperaing window choose the "Support" tab.


Using the Windows START menu -> Control Panel -> Network Connections.
Here you will find your connection aswell, right click it and select the menu option "Status".
In both situations, this window appears: