On this page...
Garmin eTrex connector
Below you will find the connector pinout of the Garmin eTrex connector: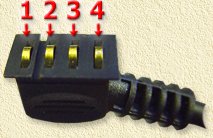 You will need this info to hook your eTrex to a PDA or PC.
The serial interafce comes in two froms, a 9-pin variant and a (older) 25-pin variant, both are connected as shown below:
pin 1

Powersupply (+ 3 Volt)

NOT used!

pin 2

RXD (Data IN)

pin 3

pin 2

TXD (Data OUT)

pin 3

TXD (Data OUT)

pin 2

pin 3

RXD (Data IN)

pin 4

GND (-)

pin 5

pin 7

GND
Note: In the RS232 column you will find two sub-columns called 9-pin and 25-pin, refering to the two RS232 connector variants. The 9-pin variant is the most common one.
Tip: If you're busy with an eTrex connector anyways then you might want to consider adding external power for the eTrex aswell. Use a 3V powersupply and connect it to pin 1 (+) and 4 (-) of eTrex connector.
The RS232 DB9 connector
This is a well known and well document connector, most of them even have numbering on the connector itself.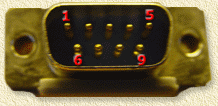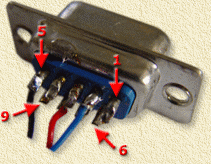 Below you will find tables of both variants of the serial connector.
Note: These pinouts are identical for both male and female connectors!
Note: Notice the swap op pin 2 and 3 if you compare both connectors!
| | | |
| --- | --- | --- |
| 1 | Data Carrier Detect | CD |
| 2 | Receive Data | RD or RX or RXD |
| 3 | Transmit Data | TD or TX or TXD |
| 4 | Data Terminal Ready | DTR |
| 5 | Signal Ground | GND |
| 6 | Data Set Ready | DSR |
| 7 | Request To Send | RTS |
| 8 | Clear To Send | CTS |
| 9 | Ring Indicator | RI |
| | | |
| --- | --- | --- |
| 1 | Chassis/Frame Ground | GND |
| 2 | Transmit Data | TD |
| 3 | Receive Data | RD |
| 4 | Request To Send | RTS |
| 5 | Clear To Send | CTS |
| 6 | Data Set Ready | DSR |
| 7 | Signal Ground | GND |
| 8 | Data Carrier Detect | DCD or CD |
| 20 | Data Terminal Ready | DTR |
| 22 | Ring Indicator | RI |