For Garmin eTrex Legend, Vista and Venture owners, a similar feature is available. (Thanks to Mike for the confirmation on the Vista).
To enable diagnostic mode with the Vista, Legend or the Venture:
Press and hold the "stick" while powering on the unit.
Update: this trick works also with the color version of the Vista, the Vista-C. I asume the LegendC will do this too.
Garmin released a little tool called xImage which allows you to get/put to your GPS, like screenshots for example.
A screen appears showing lot's of usfull info, but best of all: the thermometer (red arrow)!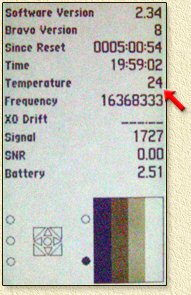 (screenshot of the eTrex Venture)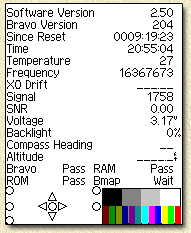 (screenshot of the eTrex VistaC using XImage)
Here you see the values as seen in the eTrex Venture example:
| | |
| --- | --- |
| Software version | 2.34 |
| Bravo Version | 7 |
| Since Reset | 0005:00:54 |
| Time | 19:59:02 |
| Temperature | 24 |
| Frequency | 16368333 |
| XO Drift | _ _ _ _ _ |
| Signal | 1727 |
| SNR | 0.00 |
| Battery | 2.51 |
Usefull info would be the software version (do I need an update?), temperature (appears to be in degrees Celcius on my eTrex) time, and battery voltage level (2.51 V).
Pressing each of the buttons of your eTrex, will indicate if it's working OK by display a representation in the lower left corner.
Screen test
Press the "Page" button twice, allows you to flip through some of the screen diagnostics. Use the stick to change contrast during these tests. I have seen this work on both the Vista and the Vista-C.
Tip: Pressing "joystick"+"page" keys while powering up the eTrex will reset the eTrex to factory defaults. So, all pressets and data will be lost.Oh you do get the nice question if you really want this :-)
Additional eTrex Tricks
Stack and Shutdown data diagnotic screen
For some eTrex model (confirmed to work with the eTrex Vista, and confirmed it does NOT work with the eTrex Vista-C): Goto the "Trip Computer" page. Click the "Zoom Out" button, the "Zoom In" button, and the "Zoom Out" button again.
Your eTrex now shows the Internal Diagnostic Reports.