On this page ...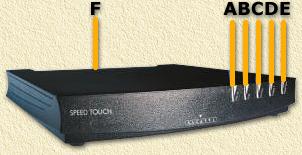 Note: the ISDN and PSTN (analog) modems may look alike, but are definitely different on the inside!

LED Status explanation
A
LAN
Data flow from/to the Ethernet connection on the back of the modem (so basically from and to your computer). This led is GREEN.
No data flow from or to your computer. This does not need to be an error. See Led F.
B
Line TX
Data is being transmitted to ADSL. This led is GREEN.
No ADSL transmissions.
C
Line RX
Data is being received from ADSL. This led is GREEN.
No ADSL reception at the moment.
D
Line Sync
ADSL initialization successful - you are now connected to ADSL.
This Led is GREEN.
ADSL line synchronization started (remains blinking if the connection to the splitter is not OK - check it!).
E
Power/Alarm
Modem ON (Power ON).
This Led is GREEN.
Modem "boot" (some RED flashes, the last one is ORANGE and finally it shows a GREEN light).
Modem OFF (Power OFF).
F
LAN Active
A proper Ethernet connection between modem and PC. (Which does ONLY mean that the cable is OK). This Led is GREEN.
No Ethernet! Check your cables!